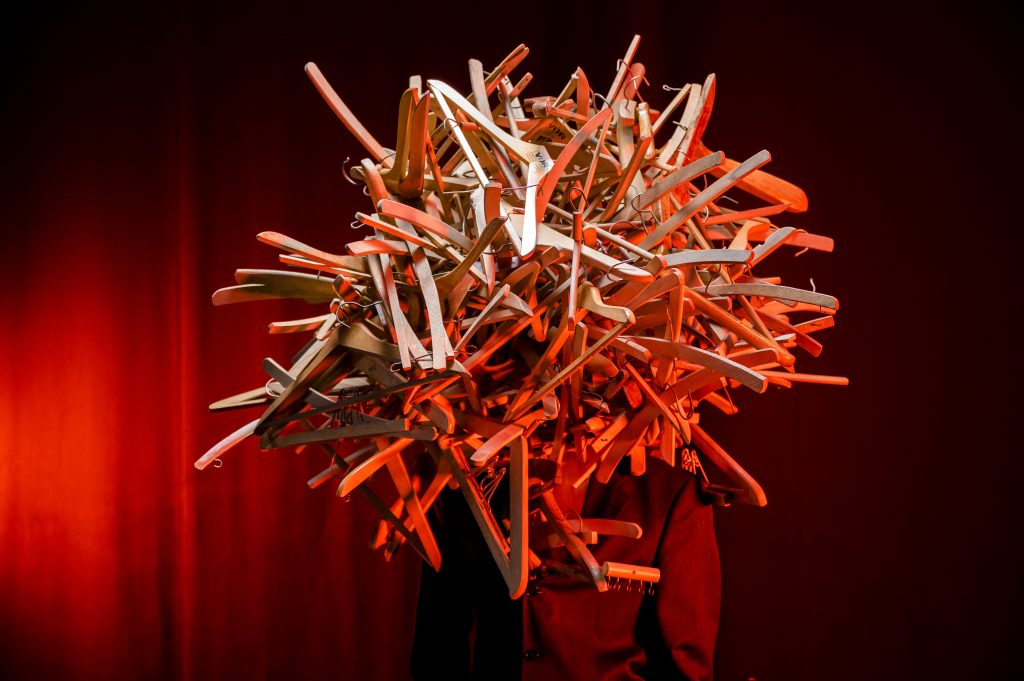 Violetta Vigh
Hundun
2023.10.12 - 11.10.
Puccs Contemporary Art
Opening: 2023.10.12.. 6-7:30pm
Hundun
is a faceless being representing primal and fertile
chaos
in the Daoist tale of the Zhuangzi. Its story implies themes such as the relationship between society and the individual, the tendency of the majority to uniformise against those who are different from them. The fact that the originally amorphous shape of Hundun is being reduced to an anthropomorphic figure by a tight suit as a classic type of uniform points out ironically the narrowing of individuality and creative potential.
Several clothes hangers bear the label VOR, an abbreviation standing for Red October Garment Factory. The factory of the Hungarian socialist era is not just historically interesting: the socialist work ethos, the glorification of over-achievement and the notion of accumulation in the installation provide an opportunity to reflect on the unsustainability of our consumer culture as well.
Violetta Vigh
, Media Design student at Moholy-Nagy University of Art and Design, is interested in different forms and technologies of media art, searching for ways to express a phenomenon, concept or story in visual metaphor. She is interested in interdisciplinary and research-based projects, such historical and sociological topics like the emergence of the heliocentric worldview, the history of aviation technology, the changing roles of women in society during the great witch-hunts or the cultural impact of the music programme of Radio Free Europe.
www.violettavigh.com
Puccs Contemporary Art
Address: 1084 Budapest, Víg u. 22.
Opening hours: 0-12 pm
Supported by Józsefváros Municipality
Plank Antal
Purple Blend 2022
Cairo Contemporary, Budapest

1071 Budapest, Lövölde tér 7.
2023.10.05-29.

The main inspirations for Hungarian visual artist, Antal Plank, are the graffiti and various street art forms. What meant a kind of fun and rebel idea for him as a teenager, the experience gained during academic years turned it to a new and exciting journey, where all that he was interested in could finally blended. The fluidity, dynamism and weight of graffiti works can make new sense and new dimension in the space.
"Street art effects people, possesses energy, represents a lifestyle, yet it calls everyone. - I think this is what attracted me in it."
Antal Plank
has gradually turned from block-like, organic forms to crystal- and origami-like shapes built from planes; and currently he is also experimenting with pinking and the void. He is playing with the tension and balance of forms and colours, proportions, planes and polygons.
Seeing his works, most viewers associate to some kind of creature, movement or swing, which collate to the intention of the artist. He never gives exact description to his works, as he is curious the feedback of others, and see how the "space game" works.
Antal Plank
started as a stonemason and decoration sculpture to continue family tradition. In 2007, he was admitted to the Hungarian Academy of Arts, where first he was interested mainly in minimalistic, robust, industrial form. In his third and forth year, he started to adopt his graffiti sketches for the space, or use the space itself to visualise this style. This is what he is still interested in.
The Steel Sculptural and Fine Arts Symposium of Kecskemét, the program he joins regularly, had a great influence on his work. Currently, he is th artist of Godot Labor Gallery and head of the sculpture workshop at the Hungarian Academy of Arts.
Curator: Gábor Pintér
Supported by Erzsébetváros Municipality - Cultural District Catalyst Grant
Cooperation partner: Bischitz Johanna Integrated Human Service Centre
instagram.com/Cairo.Contemporary
Threadstories [IE]
Persona

Cairo Contemporary

2023.09.05 - 10.01.
1071 Budapest, Lövölde tér 7.
In her work, Irish visual artist
threadstories
questions the erosion of personal privacy in our digital age and its effect on how we view and portray ourselves online. Her practice layers traditional craft techniques, performance and photography. She uses these media to investigate visually the influence new technologies and social media are having on our relationship with the image of the face - our own and others.
Persona
is a collection of handmade masks, laboriously crafted, continually preened, animated through performance and reinvented over and over in front of the camera. The artist obsessively manipulates the pliable mask forms, easing out expressions that remind us of the face but that are ultimately fabricated, fleeting facades.
threadstories
exhibits nationally and internationally, with work in the collection of The National Museum of Scotland, and various private collections. Winner of The Progressive Vision Curtin O'Donoghue Emerging photography prize at the Royal Hibernian Academy in 2020. Her work has been featured in print publications Dazed, Love, New York Times Style magazine and more. threadstories collaborates with couture houses, filmmakers, dance and music artists on commissioned pieces of wearable art.
/
Featured, two portraits from Persona Series, 2021, two iterations of the same mask.
/
Supported by Erzsébetváros Municipality - Cultural District Catalyst Grant
Cooperation partner: Bischitz Johanna Integrated Human Service Centre